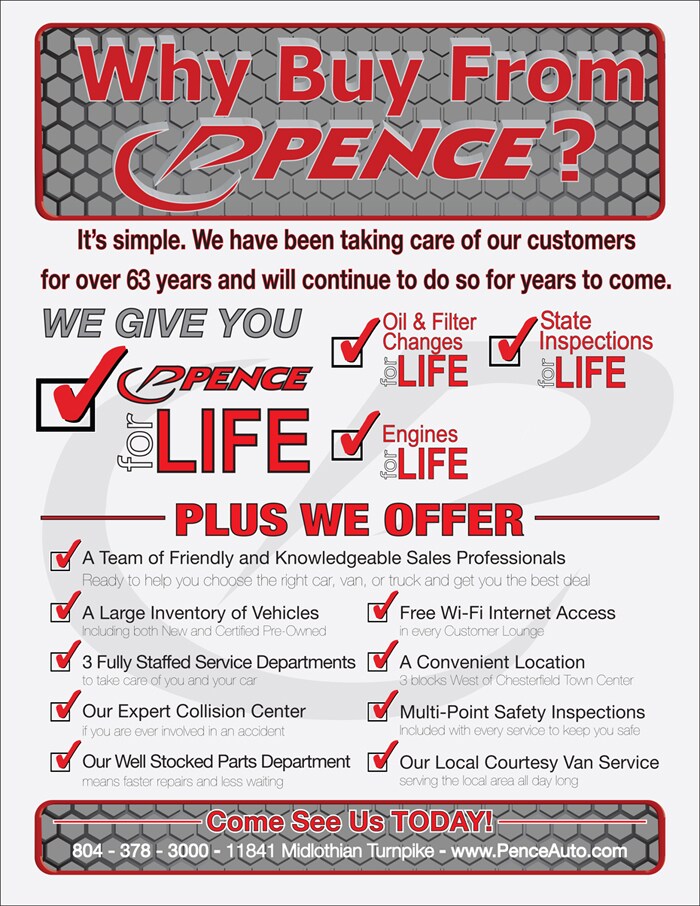 FREQUENTLY ASKED QUESTIONS
1) Which vehicles come with our Pence For Life?
A) The limited warranty and oil and filter changes apply to all new or used* Nissan vehicles purchased after 03/01/10 at Pence Nissan.
2) What is covered under the Engines for life?
A) The engine components are covered exactly like the manufacturer's engine limited warranty, but Pence provides the engine components warranty for as long as you own the vehicle.
3) How long is the Engines for life really good for?
A) The limited warranty is valid for as long as the original purchaser owns the vehicle - for unlimited time and unlimited miles.
4) How much will it cost you?
A) Nothing, this limited Lifetime Warranty comes standard with every new Nissan purchased at Pence at no additional charge.
5) Is there any extra maintenance required to maintain the warranty?
A) No extra maintenance is required to be eligible for this warranty. You are only required to follow the premium/severe scheduled maintenance at the prescribed mileage intervals as recommended by the owner's manual.
6) Do I have to have all of my services completed at Pence Nissan/Kia/Subaru?
A) Yes, the services recommended in your owners manual must be performed at Pence and our award winning service departments** will exceed your expectations and maintain an electronic copy of your records.